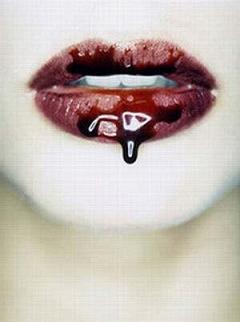 While I'm typing this entry post, I feel very angry!!! I don't know at whom I'm angry, because I don't even know them, I never met them, but I heard about them many times.... First of all, they are students, they are girls, just like me. But they give themselves the right to pick up a fight with anyone they want. If a girl dares to point at them in a net shop, the next day she would be beaten up by the gang.. It's normal in Vietnam these days.. Girls fight!!! That's right, boys ain't anything, they lost their position in fighting.. Girls rule!!! *puke* Rule my a**..


Scratching face and kicking and pulling hair have become old methods of fighting. Now if you have a chance to see a fight on the street, especially in front of a high school, you will normally see the gang tearing the victim's clothes off, insulting her (the victim is always a girl), and taking pictures of her being naked while she's crying, trying to cover her body and looking for help hopelessly. It's so weird that people on the street don't give a damn about it. They rush to the fight just to stand there and watch like they're in a cinema. Some boys even cheer for the gang (WTF!!!). In the end, they take many pics of the poor victim...

@ the stupid and stubborn and useless and cruel and ignorant Vietnamese people: What happen to you all??? Hello??? Don't you guys feel sorry for her at all??? Are you deaf or blind or numb or completely disabled???

This matter still continues in VietNam. It's like .... fashion!!! Girls go for it!!! Luckily, not all the girls!!!

I have read about this many times on newspaper and online. A friend of mine sent me a link of a video taken by a girl in a female gangster group. I didn't watch, but I know the story. They were so famous after the incident that many teen mags wrote about them. This is the story: The victim, a girl, sent a message to a guy while he was arguing with his girlfriend. The girlfriend got angry and called her friends (about 5 or 6 girls) to meet the girl and "teach" her a lesson (!?). The girl, of course, didn't understand why she was being scolded by a stranger.
The girlfriend seeing her not crying, she thought that the girl didn't care about what she said (!!??!!) so she asked the gang to tear off the girl's clothes. While the victim was still very blur, 5 or 6 girls from the gang ran to her and tore her clothes while some other girls were pulling her hair.
The victim was crying for help. But students from that school as well as passer-by just stood there and watched like they were statues... When the gang realeased the girl, she was trying to cover her body with pieces of the clothes, eyes full of tears. Boys who saw the incident took many pics of her, even video and uploaded them. A few minutes later on that forum, many comments were found. Most of them were like :"Wao, nice movie", "The girl is cute", "Babe, I wanna f*ck you", "Find more girls and take more vids" (?!)..

I am sooooo angry and I don't know what to do to calm me down... I don't know the girl, I don't know the gang.. They ain't anything/anybody to me.. But what happened made me feel so angry!!! ARRGGHHH!!! Yea I know, call me whateva you like (busybody?), I understand, haizzz...

Just imagine that someone you know (a friend, sister, cousin, daughter O_O etc etc etc) was abused by a group of b*tchy girls, how would you feel? What would you do?

Can you tolerate? Can you? NO, I can't!!! If I ever see an incident like this, I would firstly call the police eventhough they are slow but at least nowadays policemen in VN show some improvement (I know this because my phone was snatched by 2 strangers on the street and I fought with them till my right hand bruised. It's a long story, I promise will tell in another entry post), I would also call my friends and I would call people to help as well as immediately try to drag her out of the crazy gang while hoping my friends/police would come as fast as possible!!! If they dare to tear my clothes, I swear I would tear their clothes also and bite their faces to death!!! X[

Hmm talking about this, I think girls should go learn martial arts like karatedo or aikido... Or at least bring something like a pepper spray (I have one!!! ^^)... Or simply have many friends and never go alone!!! Or... just practise running as fast as possible, who knows, one day we might need to run!!! O_O

I feel scared of the people in my country, especially the young generation, what we call 9x (who were born in the 90s). I'm one of them but I never wanna be seen like them. Boys dress like girls, act like girls and girls dress like boys, act like boys (or worse)...

Much love for mom who keeps trying to give me a bright future in another country...
I don't wanna live here anymore!!!
Sick of it!!!

Rita Nguyen Kim Tuyen
25 August 2008