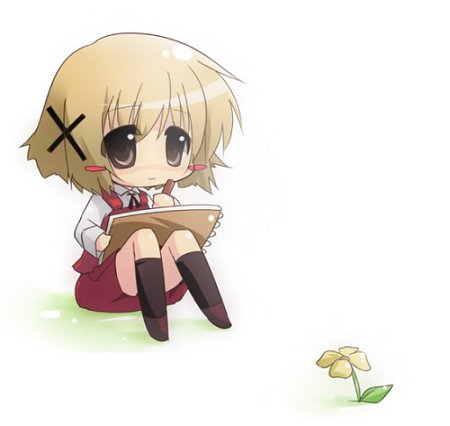 LOL, I've never been so happy like last night. I was being under stress, slept at 6pm, woke up at 12am then went online and saw you all there. I was having sooo much fun and laughed so hard until
hailat
(learnt from Liang Sheng LOL). Anyone who doesn't understand what "
hailat
" means, according to Joshua, the straightforward man, hailat means "
pussy drop out
" hahaha...
The conversation went from only a few people to suddenly sooo many people, almost half of 5sc3 was there, must be one of my mistake cause I invited wrongly, lol. It was a 4-5 hours convo and it may take another 4-5 hours to read haha. As a result, I will only post a few parts of it. If you were in 5sc3 with us, I am sure you will also laugh until ....... (fill in the blank yourself) haha!!!
Also, this is probably the longest post you have ever read LOL :DDD


===============================================================



Rita Yuen Kam Xin says:




i actually should be sleeping, lolx, its almost 1.30am eidy




haha





cHiNg says:




omg.. rita... shud sleep adi.. lol..



[A while later]



cHiNg says:




rita u better go to bed now





Rita Yuen Kam Xin says:




now ah, only 3am lor





- PROTOTYPE - says:




lol



[A while later...]



- PROTOTYPE - says:




wa liao




rita




u reli nid 2 sleep dy





Joshua/ Wai Kit says:




lol





- PROTOTYPE - says:




i think its abt 4 dy




lol





Joshua/ Wai Kit says:




she holiday ma





Rita Yuen Kam Xin says:




haha





*** *** *** *** ***





Rita Yuen Kam Xin says:




eh how come Jit Hua still stuck in Taylor's wan





- PROTOTYPE - says:




lol




wad 2 do





Joshua/ Wai Kit says:




yalo




lol





cHiNg says:




i didnt even noe that hes studying at taylors





- PROTOTYPE - says:




lol





Rita Yuen Kam Xin says:




i knew that




lolx





cHiNg says:




sorry





Joshua/ Wai Kit says:




later i study engineering , it's 4 years plus master





Rita Yuen Kam Xin says:




i still have 3 years





- PROTOTYPE - says:




fuyoh




master somemore




lol





Rita Yuen Kam Xin says:




then 2 years master oso




then another 2 year PHD




haha





cHiNg says:




hahaha.. wah.. PHD adi





Joshua/ Wai Kit says:




lol





KoB3™ a.k.a NiamaTeh™ says:




xD




guys




i miss u all




muackz





Rita Yuen Kam Xin says:




Pretty Huge *ahem*





- PROTOTYPE - says:




lol




hahaha





Joshua/ Wai Kit says:




arrrr





Rita Yuen Kam Xin says:




eee yer





Joshua/ Wai Kit says:




group hug





Rita Yuen Kam Xin says:




LOL





- PROTOTYPE - says:




sounds wrong for me hahaha





Rita Yuen Kam Xin says:




haha yaaaa





KoB3™ a.k.a NiamaTeh™ says:




lets jerking off baby





cHiNg says:




lol...





Joshua/ Wai Kit says:




LOL




i am jerking off





- PROTOTYPE - says:




haiz tis society





Joshua/ Wai Kit says:




lol





*** *** *** *** ***





cHiNg says:




before u all go off.. clear this up 1st.. so hows sat?





- PROTOTYPE - says:




lol





Joshua/ Wai Kit says:




yeah




so how




HOW????!!!!! next sat




FAST HOW !!!




tell me how .....





- PROTOTYPE - says:




joshua sometimes i saw u in midvalley wad




hahaha





cHiNg says:




yeah how





Rita Yuen Kam Xin says:




he lives there la





Joshua/ Wai Kit says:




HOWWWW





Joshua/ Wai Kit says:




FOCUS





KoB3™ a.k.a NiamaTeh™ says:




wait





cHiNg says:




yee chuan.. since u r the wan that wan to invite the whole class





KoB3™ a.k.a NiamaTeh™ says:




ahhhhhh




dun wan ah




dun call me do tat





cHiNg says:




wan oso can





Rita Yuen Kam Xin says:




lolx "wan oso can " XD





Joshua/ Wai Kit says:




invite whole class super hard ler





KoB3™ a.k.a NiamaTeh™ says:




i let joshua do tat job





Rita Yuen Kam Xin says:




yea i once invited around 10+ people oso very hard leh




keep smsing like dunno-wat-eidy




=="



..................................




Rita Yuen Kam Xin says:




lemme invite la, sure everyone will go wan




no?




*cricket sound*




=="





Joshua/ Wai Kit says:




lol





KoB3™ a.k.a NiamaTeh™ says:




who just now foreign country dun join plz xD





- PROTOTYPE - says:




lol




haha




onli one





*** *** *** *** ***






Rita Yuen Kam Xin says:




eh Josh if you go to sydney then we can meet sooner




lolx





Joshua/ Wai Kit says:




yee ching going aussie ma




so she leave next year





Rita Yuen Kam Xin says:




and YOU oso, Josh





Joshua/ Wai Kit says:




tats why i say




u pray hard my result lousy




then i come sydney next year find u





Rita Yuen Kam Xin says:




praying la




=="





Joshua/ Wai Kit says:




wat a fren....





Rita Yuen Kam Xin says:




lolx





*** *** *** *** ***





Joshua/ Wai Kit says:




wait





cHiNg says:




who is loserkid?





Rita Yuen Kam Xin says:




Peter la





- PROTOTYPE - says:




peter lo




lol





cHiNg says:




lol





Rita Yuen Kam Xin says:




see his pic with the gf




lol





- PROTOTYPE - says:




can c his face le




lol




lol!




its his sis la




hahaha





KoB3™ a.k.a NiamaTeh™ says:




lol rita jealous





Rita Yuen Kam Xin says:




pfftf, he has no sis la





- PROTOTYPE - says:




lol





Rita Yuen Kam Xin says:




haha meh, in ur dream la





- PROTOTYPE - says:




lol





Rita Yuen Kam Xin says:




im soo in love with Daryl ok




lolx





KoB3™ a.k.a NiamaTeh™ says:




omg





- PROTOTYPE - says:




lol





KoB3™ a.k.a NiamaTeh™ says:




4/7 is thursday





Rita Yuen Kam Xin says:




Saturday la





KoB3™ a.k.a NiamaTeh™ says:




ur aus time wrong d?





Joshua/ Wai Kit says:




rita not going but wanna decide the day




lol





Rita Yuen Kam Xin says:




almost 2am eidy




haha





cHiNg says:




lol.. hahah... its sat





Rita Yuen Kam Xin says:




im busybody la





KoB3™ a.k.a NiamaTeh™ says:




oooooooo




then i ok lo




4/7





Rita Yuen Kam Xin says:




yesterday Daryl was online but i didn't know what happen




today we chat here, and he's not online




haizzz




like chicken only, sleep so early la





- PROTOTYPE - says:




lol





cHiNg says:




hahaa





- PROTOTYPE - says:




ill tell daryl






*** *** *** *** ***





cHiNg says:




btw.. did some of u change ur hp no?





Rita Yuen Kam Xin says:




yea i did




lolx





Joshua/ Wai Kit says:




nope same





cHiNg says:




jit hua?




liang sheng?





Rita Yuen Kam Xin says:




+61 4 5074 xxxx





- PROTOTYPE - says:




mine still d same




016390xxxx





KoB3™ a.k.a NiamaTeh™ says:




ya i changed





Rita Yuen Kam Xin says:




anyone want my hp number, no?





Joshua/ Wai Kit says:




mine is 012- 999





KoB3™ a.k.a NiamaTeh™ says:




somebody call 911





- PROTOTYPE - says:




swt




012-666 bring u 2 hell




lol




go call dat




even worse





KoB3™ a.k.a NiamaTeh™ says:




lol




i called le





- PROTOTYPE - says:




woot




u will be dead





KoB3™ a.k.a NiamaTeh™ says:




they say no. not available





Rita Yuen Kam Xin says:




eh whats ur number, Josh?, how come 999 eidy?





- PROTOTYPE - says:




lol





*** *** *** *** ***





Peter says:




mother ah




wth is tis





Piao Sheng says:




hei yee chuan





Rita Yuen Kam Xin says:




eh i think i just heard Peter




LOL





- PROTOTYPE - says:




lol he was here





Joshua/ Wai Kit says:




u did




he was saying something





cHiNg says:




where?





Liang Sheng says:




ei... PIAO SHENg liao....





Peter says:




ok





- PROTOTYPE - says:




he said wth is tis




lol




here he is




hahaha




tailou here dy





Peter says:




helloooooo





cHiNg says:




lol.. the 1st sentence?





Joshua/ Wai Kit says:




1st thing he say





cHiNg says:




wow.. its so confusing now





Liang Sheng says:




plz tell me wat's going on la...





Joshua/ Wai Kit says:




WTH is this





- PROTOTYPE - says:




no la





Rita Yuen Kam Xin says:




haha




He said "mother ah"





Peter says:




exactly





*** *** *** *** ***





KoB3™ a.k.a NiamaTeh™ says:




fsd




fsd




f




sd




sd




fsd




f





Piao Sheng says:




my pc so damn lag





KoB3™ a.k.a NiamaTeh™ says:




sd




fsd




f





cHiNg says:




eh





KoB3™ a.k.a NiamaTeh™ says:




sdf




sd




fsd




f




sdf




sd




f




sdf




sd




f




sdf




sd




fd




sf




sd





Peter says:




father ah





Rita Yuen Kam Xin says:




ur pc lousy la





cHiNg says:




sat plan fixed?





Joshua/ Wai Kit says:




dun spam la





- PROTOTYPE - says:




swt





Rita Yuen Kam Xin says:




oi dun spam





KoB3™ a.k.a NiamaTeh™ says:




f




sd




fsd




f




sdf




sd




f




sdf




sd




f




sd




f





Rita Yuen Kam Xin says:




lol





KoB3™ a.k.a NiamaTeh™ says:




dsf




sd




fsd




f





- PROTOTYPE - says:




dun spam




lol





Peter says:




jdf




sdf




sdf




sdf




dsf




dfs




sd




ds





- PROTOTYPE - says:




swt la





KoB3™ a.k.a NiamaTeh™ says:




sd




f




dsf




srg




et




hty




rj




uy




j




ty




er




e




ew




e




ter





- PROTOTYPE - says:




hahaha





Rita Yuen Kam Xin says:




oi cant read eidy




=="





Peter says:




s




s




s




s




s




s





Piao Sheng says:




wat plan ?





KoB3™ a.k.a NiamaTeh™ says:




y




tru




rt




t




er




ew




re




r





cHiNg says:




sat plan fixed?




sat plan fixed?




sat plan fixed?




sat plan fixed?




sat plan fixed?





sat plan fixed?sat plan fixed?





KoB3™ a.k.a NiamaTeh™ says:




ew




rew




t




ret




er




t




ert




er




t




ert




er




t




rt




er




t




er




v




my cock like sugar




my cock like sugar




my cock like sugar




my cock like sugar




my cock like sugar




my cock like sugar





Peter says:




lol





Piao Sheng says:




so who goin ?





KoB3™ a.k.a NiamaTeh™ says:




yee ching call every1 final confirm ah





Piao Sheng says:




ya right= = <~~~ talking to himself haha





Rita Yuen Kam Xin says:




wats with CHuan's cock lolx





Peter says:




sexy la





*** *** *** *** ***





Peter says:


plez tell me wats goin on la
mother



- PROTOTYPE - says:




hmmm





KoB3™ a.k.a NiamaTeh™ says:




yc i sure call u and.......................................





- PROTOTYPE - says:




who u calling mom hahhaaha





cHiNg says:




sounds so fierce.. lol





Joshua/ Wai Kit says:




yc stands for yee chuan and yee ching?





- PROTOTYPE - says:




lol if i din install d latest msn i vry blur hahaha




lol





Peter says:




haiz





KoB3™ a.k.a NiamaTeh™ says:




both



Peter has left the conversation.



- PROTOTYPE - says:




woot peter mad hahaha





cHiNg says:




oh.. yee chuan is the wan who said yc.. so it shud mean me? lol





- PROTOTYPE - says:




lol





KoB3™ a.k.a NiamaTeh™ says:




i mean both





cHiNg says:




where is peter?





- PROTOTYPE - says:


gone mad dy lol
hahaha

Peter has been added to the conversation.



cHiNg says:




wat did u do to him?





- PROTOTYPE - says:




all ignore him





KoB3™ a.k.a NiamaTeh™ says:




serious la bitches





- PROTOTYPE - says:




now he mad lol!





Piao Sheng says:




peter tat guy sure sleep wan lar





- PROTOTYPE - says:




not me le ><




ya





cHiNg says:




hows the sat plan? is it fixed?





Peter says:




eh froggy i owe ur mother nw izit





KoB3™ a.k.a NiamaTeh™ says:




dun waste my time i wan jerk off





- PROTOTYPE - says:




lol





Joshua/ Wai Kit says:




u can jerk off while chatting on msn ma





Peter says:




wat saturday





- PROTOTYPE - says:




u can jerk off




sat lets meet up





Liang Sheng says:




EH, EVERYONE CAN BE SERIOUS MOU?





Peter says:




mother




talkin 2 myself





*** *** *** *** ***





KoB3™ a.k.a NiamaTeh™ says:




SO 11/7 ah





Piao Sheng says:




can can





Joshua/ Wai Kit says:




where?





Rita Yuen Kam Xin says:




ok deal





Joshua/ Wai Kit says:




mid valley right?





cHiNg says:




yea





Piao Sheng says:




k yee chuan





Peter says:




rita can go meh





KoB3™ a.k.a NiamaTeh™ says:




midvalley ok?





- PROTOTYPE - says:




lol rita sure kenot go





Joshua/ Wai Kit says:




rita must fly back by then





Rita Yuen Kam Xin says:




haha you wish la





KoB3™ a.k.a NiamaTeh™ says:




i tell other monkey 1st





cHiNg says:




date: 11/7




time: 11.30/12




venue: midvalley..




deal





Piao Sheng says:




deal





Joshua/ Wai Kit says:




deal





KoB3™ a.k.a NiamaTeh™ says:




ok all 11/7 ah





Joshua/ Wai Kit says:




okok





Rita Yuen Kam Xin says:




ok deal lolx





- PROTOTYPE - says:




k





Peter says:




deal





KoB3™ a.k.a NiamaTeh™ says:




kobe really kobe





Piao Sheng says:




kk deal





KoB3™ a.k.a NiamaTeh™ says:




deal u can no need come de





- PROTOTYPE - says:




lol





Liang Sheng says:




LOL





Rita Yuen Kam Xin says:




haha yee chuan so bad





KoB3™ a.k.a NiamaTeh™ says:




i mean piao sheng





Liang Sheng says:




hah/aha/





- PROTOTYPE - says:




haha





Joshua/ Wai Kit says:




lol





Piao Sheng says:




so bad lar u





- PROTOTYPE - says:




vry true





Liang Sheng says:




hahahahahahahaha





KoB3™ a.k.a NiamaTeh™ says:




jkjk LOL





Peter says:




yee chuan good la





Rita Yuen Kam Xin says:




oh poor piao sheng





Liang Sheng says:




good one, yee chuan





- PROTOTYPE - says:




lol y jokking





KoB3™ a.k.a NiamaTeh™ says:




lol





- PROTOTYPE - says:




its vry true





Joshua/ Wai Kit says:




piao sheng haven suicide yet...kena bully from yc





KoB3™ a.k.a NiamaTeh™ says:




coz got u = no u





- PROTOTYPE - says:




lol





Joshua/ Wai Kit says:




LOL





Peter says:




lol





KoB3™ a.k.a NiamaTeh™ says:




LOLz





Liang Sheng says:




hah/ah/haha





- PROTOTYPE - says:




hahaha





Liang Sheng says:




LOLOLOLOLOLOL





Peter says:




mother hahhahaahha





*** *** *** *** ***





cHiNg says:




yee chuan wats ur hp no again?





Rita Yuen Kam Xin says:




i dunno urs too





- PROTOTYPE - says:




lol





Liang Sheng says:




so, nobody change phone number, right?





KoB3™ a.k.a NiamaTeh™ says:




016-337xxxx





- PROTOTYPE - says:




yeee chuan i got ur hp no or not le





Joshua/ Wai Kit says:


duno's yc( male) 's number
ok now i save



cHiNg says:




liang sheng, is this ur hp no? 012631xxxx?





- PROTOTYPE - says:


lol yc(male) yc(female)
lol



Liang Sheng says:




yup





cHiNg says:




-_-





Liang Sheng says:




u le?





cHiNg says:




016292xxxx





Liang Sheng says:




i call u now...





Joshua/ Wai Kit says:




yc male i miss call u





- PROTOTYPE - says:




ei yee chuan





KoB3™ a.k.a NiamaTeh™ says:




cant wait to c piso sheng 'handsome' face





Joshua/ Wai Kit says:




rita u sms me lol





cHiNg says:




yea.. she sms me too





Joshua/ Wai Kit says:




never waste money be4 ar





- PROTOTYPE - says:




haha




she rich





Joshua/ Wai Kit says:




sms from aussie





- PROTOTYPE - says:




lol





KoB3™ a.k.a NiamaTeh™ says:




who the fuck sms me lalala





Liang Sheng says:




ya la...




sure rita





Joshua/ Wai Kit says:




probably rita





cHiNg says:




thats rita





Rita Yuen Kam Xin says:


haha
lolx



Joshua/ Wai Kit says:




she sms all ppl




in her sms she say




lalalala




lol





*** *** *** *** ***





KoB3™ a.k.a NiamaTeh™ says:




11/7 ah cb




11/7 ah cb




11/7 ah cb




11/7 ah cb




11/7 ah cb




11/7 ah cb




11/7 ah cb




11/7 ah cb




11/7 ah cb




ok?





Rita Yuen Kam Xin says:




wat is cb




lolx





KoB3™ a.k.a NiamaTeh™ says:




cb = cibai = vagina = pet pet





Rita Yuen Kam Xin says:




wat the...





Joshua/ Wai Kit says:




lol





*** *** *** *** ***





KoB3™ a.k.a NiamaTeh™ says:




i miss yee chuan




ops





- PROTOTYPE - says:




lol





Rita Yuen Kam Xin says:




haha





KoB3™ a.k.a NiamaTeh™ says:




i miss yee ching





Joshua/ Wai Kit says:




u miss urself





Rita Yuen Kam Xin says:




you miss urself





Joshua/ Wai Kit says:




lol





- PROTOTYPE - says:




haha





Rita Yuen Kam Xin says:




u dun miss me meh?




=="





KoB3™ a.k.a NiamaTeh™ says:




i miss all girls





Liang Sheng says:




hahahahahaha




lol





Joshua/ Wai Kit says:




so u miss piao sheng also?





KoB3™ a.k.a NiamaTeh™ says:




cb





- PROTOTYPE - says:




lol





Joshua/ Wai Kit says:




lol joking





Piao Sheng says:




- -





Liang Sheng says:




ei, seriously la, i really miss you all la... except sumone






- PROTOTYPE - says:




lol except sumone




hahaha




so obvious lol





Rita Yuen Kam Xin says:




hhaa i miss u all too





KoB3™ a.k.a NiamaTeh™ says:




except me la





Rita Yuen Kam Xin says:




*group hug*





KoB3™ a.k.a NiamaTeh™ says:




lai





Joshua/ Wai Kit says:




lol





KoB3™ a.k.a NiamaTeh™ says:




1 on 1




cipet





Rita Yuen Kam Xin says:




*group kiss*





- PROTOTYPE - says:




lol




zzzz




lol





Joshua/ Wai Kit says:




group sex





cHiNg says:




yee chuan is still the same.. lol





Piao Sheng says:




1 on 1 in wat





Joshua/ Wai Kit says:




lol





- PROTOTYPE - says:




lol piao sheng still so blur





Joshua/ Wai Kit says:




from hug to kiss





- PROTOTYPE - says:




hahahaha





Rita Yuen Kam Xin says:




haha let's have an orgy





- PROTOTYPE - says:




rita





Joshua/ Wai Kit says:




wtf





Piao Sheng says:




i wana mad already





- PROTOTYPE - says:




lol mad la




u mad=no1 cares





*** *** *** *** ***





cHiNg says:




erh.. ask someone to fetch me there.. lol





KoB3™ a.k.a NiamaTeh™ says:




meme





- PROTOTYPE - says:




lol!





Rita Yuen Kam Xin says:




haha yee chuan so excited





Liang Sheng says:




lol~~~





cHiNg says:




so free? lol...




all the way to bukit jalil





- PROTOTYPE - says:




so eager





Joshua/ Wai Kit says:




it's ok yc(male) can be yc(female) driver for the day





KoB3™ a.k.a NiamaTeh™ says:




yea





Rita Yuen Kam Xin says:




never mind wan la, even if ur in aussie, he will drive to fetch u wan




lolx





Liang Sheng says:




ei, yee ching dun ask ready la... juz follow yee chuan la lol




lol~~~





Joshua/ Wai Kit says:




yalo





- PROTOTYPE - says:




lol~





Joshua/ Wai Kit says:




dun worry, he wont sell u off





- PROTOTYPE - says:




haha




if piao den mayb





Joshua/ Wai Kit says:




lol





cHiNg says:




lol..





Liang Sheng says:




hahaha





- PROTOTYPE - says:




lol not mayb




its sure





Piao Sheng says:




wei wei wei





- PROTOTYPE - says:




lol





Liang Sheng says:




piao nvr get any consideration one la





KoB3™ a.k.a NiamaTeh™ says:




piao sheng i sell also no ppl 1 la





cHiNg says:




haha





- PROTOTYPE - says:


lol give for free lo



Joshua/ Wai Kit says:


tat one is throw
not sell


LOL jk





Rita Yuen Kam Xin says:




haha





KoB3™ a.k.a NiamaTeh™ says:




i giv my car + piao sheng ppl also dun wan





Rita Yuen Kam Xin says:




lolx





- PROTOTYPE - says:




lol





Joshua/ Wai Kit says:




hahahaa





Rita Yuen Kam Xin says:




so funny la




omg lolx





Joshua/ Wai Kit says:




damn funny la, all pick on piao





cHiNg says:




lol..





Piao Sheng says:




come on dun attack me





- PROTOTYPE - says:




im serious le




lol





*** *** *** *** ***





KoB3™ a.k.a NiamaTeh™ says:




dl sora aoi





- PROTOTYPE - says:




lol





Joshua/ Wai Kit says:




haha




she old adi la





- PROTOTYPE - says:




maria osawa la





Liang Sheng says:




me still downloading maria osawa




honestly





- PROTOTYPE - says:




lol





Joshua/ Wai Kit says:




lol





- PROTOTYPE - says:




u ah





KoB3™ a.k.a NiamaTeh™ says:




maria osawa whre dl





Piao Sheng says:




i got no need dl





- PROTOTYPE - says:




lol





Piao Sheng says:




syamin aloti get





Liang Sheng says:




yee chuan u wan?





- PROTOTYPE - says:




lol





KoB3™ a.k.a NiamaTeh™ says:




where to dl maria osawa





Liang Sheng says:




i burn a disc for u





- PROTOTYPE - says:




haha lol





Piao Sheng says:




i giv u





KoB3™ a.k.a NiamaTeh™ says:




lucky i din jerk off





Rita Yuen Kam Xin says:




who the hell is maria osawa





- PROTOTYPE - says:




hahahaha





cHiNg says:




wat is that





KoB3™ a.k.a NiamaTeh™ says:




some1 send me now i wan 4-5 mins





- PROTOTYPE - says:




lol





Rita Yuen Kam Xin says:




haha yee ching





Liang Sheng says:




see, piao sheng wan rasuah yee chuan, using maria ozawa





Rita Yuen Kam Xin says:




lolx





- PROTOTYPE - says:




hahaha





Rita Yuen Kam Xin says:




so funny





- PROTOTYPE - says:




lol piao give sora+maria not enuf




lol





Rita Yuen Kam Xin says:




yee ching its Porn Star





- PROTOTYPE - says:




lol





KoB3™ a.k.a NiamaTeh™ says:




ANY 1 GOT MARIA OSAWA 4-5 MINS SEND ME NOW





Liang Sheng says:




4-5??? i hav 20min wo





KoB3™ a.k.a NiamaTeh™ says:




where





Piao Sheng says:




my wan full





- PROTOTYPE - says:




i go drink water 1st





Liang Sheng says:




fuck u piaosheng, like to make compare to me





KoB3™ a.k.a NiamaTeh™ says:




i wan shortest de la




dun argue la




lai




i sayang ah




lai




muackz





Rita Yuen Kam Xin says:




bluek





- PROTOTYPE - says:




lol




piao u cant win liang





Piao Sheng says:




OMG yee chuan change alot





Rita Yuen Kam Xin says:




lolx





KoB3™ a.k.a NiamaTeh™ says:




cb




who got maria osawa la




where dl cb





- PROTOTYPE - says:




lol





Liang Sheng says:




LOL!!!!!!!!!





KoB3™ a.k.a NiamaTeh™ says:




i wan la





Joshua/ Wai Kit says:




www.puretna.com





- PROTOTYPE - says:




hahahahaha




lol





Rita Yuen Kam Xin says:




google la




wat the hell





Joshua/ Wai Kit says:




browes for maria





- PROTOTYPE - says:




lol! hahahaha





Liang Sheng says:




THIS IS MADNESS!!!!!!!!!!!!!!!!!!!!!!!!!!!!!!!!!!!!




no, this is SPADA!!!!!!!!!!!!!!!!!!!!!!!!!!!!!!!!!!!!!!!!!





*** *** *** *** ***





KoB3™ a.k.a NiamaTeh™ says:




SEND ME MARIA OSAWA





- PROTOTYPE - says:




lol i tot he wan 2 say wad




hahaha





Rita Yuen Kam Xin says:




wat the





Joshua/ Wai Kit says:




u go downlaod urself in www.puretna.com





Piao Sheng says:




some wan send maria to yee chuan





KoB3™ a.k.a NiamaTeh™ says:




need log in la cb





Joshua/ Wai Kit says:




log in la diu





Rita Yuen Kam Xin says:




haha





Joshua/ Wai Kit says:




less than 1 minute





- PROTOTYPE - says:




lol




use joshua 1 lo lol





KoB3™ a.k.a NiamaTeh™ says:




piao sheng send me now plz





Liang Sheng says:




hahahahaha





- PROTOTYPE - says:




lol





Piao Sheng says:




my wan full wan





- PROTOTYPE - says:




swt





Joshua/ Wai Kit says:




if send to u, probably few hours





- PROTOTYPE - says:




lol





Liang Sheng says:




tis is really a crazy conversation





Rita Yuen Kam Xin says:




haha





- PROTOTYPE - says:




lol wad so crazy





Rita Yuen Kam Xin says:




where's yee ching eidy





- PROTOTYPE - says:




i feel so normal





KoB3™ a.k.a NiamaTeh™ says:




yee ching my dear





- PROTOTYPE - says:




lol





Liang Sheng says:




LOL





- PROTOTYPE - says:




haha





KoB3™ a.k.a NiamaTeh™ says:




where r u



cHiNg has left the conversation.



- PROTOTYPE - says:




woot




u made her mad





Rita Yuen Kam Xin says:




left eidy, lolx




see? u n your maria ...





- PROTOTYPE - says:




she is mad





Rita Yuen Kam Xin says:




lolx





Liang Sheng says:




ei, yee ching cou lou liao





- PROTOTYPE - says:




lol dc



cHiNg has been added to the conversation.



Joshua/ Wai Kit says:




she dc again





- PROTOTYPE - says:




haha





Joshua/ Wai Kit says:




5 times jor





Rita Yuen Kam Xin says:




haha josh u count wan ah





Joshua/ Wai Kit says:




yup





cHiNg says:




sry.. dc..





KoB3™ a.k.a NiamaTeh™ says:




where my dear





Joshua/ Wai Kit says:




i am lifeless





- PROTOTYPE - says:




lol





Joshua/ Wai Kit says:




?





cHiNg says:




?





Joshua/ Wai Kit says:




y all stop talking





Piao Sheng says:




suddenly all kena stun





Rita Yuen Kam Xin says:




ya la





Joshua/ Wai Kit says:




if got ntg to say then lets all bully piao la





Rita Yuen Kam Xin says:




why so quiet lolx





*** *** *** *** ***





Piao Sheng says:




long time din chat like tat





- PROTOTYPE - says:




aiya piao kena h1n1 ma




wad 2 do





Joshua/ Wai Kit says:




its good piao sheng is here, got something to laugh at





cHiNg says:




lol





Piao Sheng says:




diu u lar




i very healty





Joshua/ Wai Kit says:




u sure?





- PROTOTYPE - says:




vry healthy pula





Piao Sheng says:




come on all healty k





Joshua/ Wai Kit says:




maybe frog imune to H1N1. new discovery





cHiNg says:




lol




new types of virus adi





Joshua/ Wai Kit says:




lol





Rita Yuen Kam Xin says:




lolx





Joshua/ Wai Kit says:




H3N1 frog flu




or reptile flu





Rita Yuen Kam Xin says:




haha





- PROTOTYPE - says:




onli got frog flu





Piao Sheng says:




= = not fun lar josh





Joshua/ Wai Kit says:




fun ma not fun mer




hahaha





- PROTOTYPE - says:




vry fun





Piao Sheng says:




okok lar 123





Joshua/ Wai Kit says:




i also laughing





- PROTOTYPE - says:




woot




123 pula





Joshua/ Wai Kit says:




lol





- PROTOTYPE - says:




lol yee chuan must be laughing




or dl maria osawa





Joshua/ Wai Kit says:




when piao start laughing i dun feel like laughing jor





- PROTOTYPE - says:




lol frog can laugh 1 meh





Rita Yuen Kam Xin says:




eh wat is 123 for?




lolx





- PROTOTYPE - says:




lol frog sign





Joshua/ Wai Kit says:




he is preparing to laugh





- PROTOTYPE - says:




dun learn





Piao Sheng says:




count for laugh





- PROTOTYPE - says:




later u become frog if u learn his sign





Joshua/ Wai Kit says:




lol





Rita Yuen Kam Xin says:




haha





- PROTOTYPE - says:




lol





*** *** *** *** ***





Piao Sheng says:




syamin join fit ness u all noe ?





cHiNg says:




lol really?





- PROTOTYPE - says:




he join fitness no use lol





cHiNg says:




success?




or fail?





- PROTOTYPE - says:




how 2 success





Liang Sheng says:




dun laugh la, later he really fit liao...then....REALLY FUNNY





Joshua/ Wai Kit says:




he should





- PROTOTYPE - says:




how 2 success if he is lazy





Joshua/ Wai Kit says:




come on la





Piao Sheng says:




go gym wif le ren





cHiNg says:




le ren really thin a lot adi





Joshua/ Wai Kit says:




yup





- PROTOTYPE - says:




woot





Rita Yuen Kam Xin says:




syamim hopeless eidy la




my son i know wan




lolx





- PROTOTYPE - says:




woot




wad a mother





cHiNg says:




some ppl say gym got a lot of gays





Rita Yuen Kam Xin says:




lolx, gays





Joshua/ Wai Kit says:




gay? wtf





Rita Yuen Kam Xin says:




Joshua is interested





Joshua/ Wai Kit says:




go gym must be gay 1 mer????





cHiNg says:


yea.. my fren saw some
no la..



Rita Yuen Kam Xin says:




tomorrow sure register eidy





Joshua/ Wai Kit says:




y ar?





cHiNg says:




i mean some r gay la.. not all and not must





Rita Yuen Kam Xin says:




haha go gym must be gay lolx





Joshua/ Wai Kit says:




lol




syamin?




lih ren?




they gym





Rita Yuen Kam Xin says:




omg they are all ....... eidy O_O





Joshua/ Wai Kit says:




LOL





- PROTOTYPE - says:




woot u all type so fast zzz





Joshua/ Wai Kit says:




rita think too much





cHiNg says:




my fren went to gym and this gay guy wan to "kao" my fren.. lol





Rita Yuen Kam Xin says:




haha





Piao Sheng says:




OMG





Joshua/ Wai Kit says:




lol wtf





Liang Sheng says:




so...wat is the topic now???





cHiNg says:




the gayguy said some "geli" stuff





Rita Yuen Kam Xin says:




GAY





Joshua/ Wai Kit says:




LOL





- PROTOTYPE - says:




gay





Joshua/ Wai Kit says:




wat he say





- PROTOTYPE - says:




lol





Joshua/ Wai Kit says:




hey wana have sex ?





- PROTOTYPE - says:




lol





Rita Yuen Kam Xin says:




haha





Joshua/ Wai Kit says:




hey are u gay?




LOL something like tat





Liang Sheng says:




gay?





Rita Yuen Kam Xin says:




or maybe "u want a job?"





Joshua/ Wai Kit says:




LOLOLOL





Liang Sheng says:




who?





Joshua/ Wai Kit says:




hahahahah





cHiNg says:




like put the di"k in his chest or someting like that





Liang Sheng says:




syamin n lih ren?





Joshua/ Wai Kit says:




WTF





- PROTOTYPE - says:




now they r talking abt gay lol





Rita Yuen Kam Xin says:




OMGGGG





- PROTOTYPE - says:




lol





Joshua/ Wai Kit says:




WTFWTFWTF




SICK SHIT





Rita Yuen Kam Xin says:




ewwwww





Joshua/ Wai Kit says:




he did that or say that





Rita Yuen Kam Xin says:




he did la





- PROTOTYPE - says:




lol





Rita Yuen Kam Xin says:




lolx





Joshua/ Wai Kit says:




eh




say it and do it is diff u knoe





Rita Yuen Kam Xin says:




should be doing la lolx





Joshua/ Wai Kit says:




yuck





- PROTOTYPE - says:




lol how u noe





Joshua/ Wai Kit says:




eh wont do la




in public area ler





- PROTOTYPE - says:




i think juz say onli la lol





Joshua/ Wai Kit says:




gym got other ppl also la





Rita Yuen Kam Xin says:




he doesnt care la, horny eidy lolx





- PROTOTYPE - says:




got ppl so gay





Joshua/ Wai Kit says:




so sick to that extend do infront of other ppl ar





Liang Sheng says:




gay as syamin n lih ren?




or wat?





- PROTOTYPE - says:




woot



cHiNg has left the conversation.



Liang Sheng says:




dc again





- PROTOTYPE - says:




syamin n piao sheng





Liang Sheng says:




lololololol



cHiNg has been added to the conversation.



Joshua/ Wai Kit says:




lol





Piao Sheng says:




wei i show my 9 inchs pennis





cHiNg says:




i dc so many times




ish!





- PROTOTYPE - says:




lol





Joshua/ Wai Kit says:




regarding the sick thing




that gay guy, do it or say it?





cHiNg says:




say it





- PROTOTYPE - says:




lol





Joshua/ Wai Kit says:




put dick on chest





Liang Sheng says:




diu la, piao sheng. 9inch....





Joshua/ Wai Kit says:




LOL





- PROTOTYPE - says:




lol den not real





Joshua/ Wai Kit says:




piao sheng got 1 mer?





Rita Yuen Kam Xin says:




wat the hell, dun have to say how long ur dick is la piao





- PROTOTYPE - says:




lol 9 mm




lol





Rita Yuen Kam Xin says:




btw, i heard frog dick is very small leh





- PROTOTYPE - says:




lol!




ahhhh rita





Piao Sheng says:




nope my wan 9 inches k





- PROTOTYPE - says:




9 mm





Joshua/ Wai Kit says:




so small till he have to squad down





Rita Yuen Kam Xin says:




9 nano meter !!!!





Joshua/ Wai Kit says:




LOL





cHiNg says:




lol nano





Liang Sheng says:




9nano mm





- PROTOTYPE - says:




in frog language 9inches=9nano meter





Joshua/ Wai Kit says:




nano is cannot see adi lo





Rita Yuen Kam Xin says:




haha





Joshua/ Wai Kit says:




need microscope





- PROTOTYPE - says:




lol





Rita Yuen Kam Xin says:




haha





Piao Sheng says:




im tired for fight wif u all





Rita Yuen Kam Xin says:




small like bacteria eidy





Joshua/ Wai Kit says:




nano is even smaller than microorganism





Liang Sheng says:




9 microorganism length





Piao Sheng says:




i only got handguns





- PROTOTYPE - says:




we r not fighting




cheh i got m16





Piao Sheng says:




u all using mechine guns





- PROTOTYPE - says:




u wan 2 fight come on





Liang Sheng says:




sry... i prefer sniper





Joshua/ Wai Kit says:




lol





- PROTOTYPE - says:




i dun care




i bare hand aso can win




wif one eye close





*** *** *** *** ***





Joshua/ Wai Kit says:




now still got ppl watch sponge bob?





Rita Yuen Kam Xin says:




got




i do lolx





Piao Sheng says:




i seldom watch





Joshua/ Wai Kit says:




i no watch be4





Rita Yuen Kam Xin says:




but now i seldom watch eidy





Joshua/ Wai Kit says:




i only know the main character is a sponge





Liang Sheng says:




i watch also... the new season really make me laugh until hai lat





Rita Yuen Kam Xin says:




wat is hai lat lolx





Joshua/ Wai Kit says:




pussy drop out




is hai lat





Rita Yuen Kam Xin says:




omg lolx




can laugh till hai lat meh




u dun have hai oso




lolx





Joshua/ Wai Kit says:




lol





*** *** *** *** ***





Joshua/ Wai Kit says:




u turn lessbian jor la rita





Liang Sheng says:




learn to be hailat ar?





Rita Yuen Kam Xin says:




haha, bi





Liang Sheng says:




lol





Joshua/ Wai Kit says:




later she cook until hailat lol





Rita Yuen Kam Xin says:




wat the hell





Joshua/ Wai Kit says:




LOL





Rita Yuen Kam Xin says:




no nid to be like that la





Joshua/ Wai Kit says:




jkjk





Rita Yuen Kam Xin says:




later how to cook for Daryl ???




=="





Liang Sheng says:




wat is jk?





Joshua/ Wai Kit says:




lol joking is jk





cHiNg says:




yea.. cook for daryl





Liang Sheng says:




daryl...




wonder how is he now





Rita Yuen Kam Xin says:




he is fine





Joshua/ Wai Kit says:




lol





cHiNg says:




did he grow taller?





Rita Yuen Kam Xin says:




i just visited him last week lolx





Liang Sheng says:




did he grow fatter?





Joshua/ Wai Kit says:




lol skinny as always




u can see facebook photo 1 ma





Liang Sheng says:




did he marry with u?





Joshua/ Wai Kit says:




lol





Liang Sheng says:




did u guyz hav a child now?





Joshua/ Wai Kit says:




did u guys have sex adi




still virgin ohh? both of u





Liang Sheng says:




answer me la... did u guyz hav child now?





Rita Yuen Kam Xin says:




when we ring the church bell, we will invite u all la, dun worry




lol





Liang Sheng says:




ei, joshua, not too direct...





cHiNg says:




wat kind of question is this.. lol





Liang Sheng says:




twist n turn





Rita Yuen Kam Xin says:




ya la lolx





Joshua/ Wai Kit says:




lol i am direct 1 la




rita used to it already





Rita Yuen Kam Xin says:




haha





Liang Sheng says:




where is the place then? no AUS plz... back to malaysia n marry





*** *** *** *** ***





KoB3™ a.k.a NiamaTeh™ says:




call me KoB3





Rita Yuen Kam Xin says:




wat is ko be





KoB3™ a.k.a NiamaTeh™ says:




kobe la




cb





Joshua/ Wai Kit says:




basket ball player la





KoB3™ a.k.a NiamaTeh™ says:




its me





Rita Yuen Kam Xin says:




eh how to call dick in canto ah





Joshua/ Wai Kit says:




lol





Rita Yuen Kam Xin says:




he call me cb





cHiNg says:




lol rita tsk tsk tsk





Joshua/ Wai Kit says:




lol tsk tsk





KoB3™ a.k.a NiamaTeh™ says:




wat tsk




i tfk i know la





Rita Yuen Kam Xin says:




its a sound la





Joshua/ Wai Kit says:




i also duno i copy n paste nia




*** *** *** *** ***




- PROTOTYPE - says:




ahhh juz fin hmmm




now wad topic





Rita Yuen Kam Xin says:




errr... how to call a dick in canto





Liang Sheng says:




lol





- PROTOTYPE - says:




lol




lan jiao!





Rita Yuen Kam Xin says:




ahhh yes





cHiNg says:




haha





Liang Sheng says:




is jiao jiao





Rita Yuen Kam Xin says:




shit, how could i forget that lolx





Joshua/ Wai Kit says:




lol





Piao Sheng says:




swt





cHiNg says:




rita wan to noe





- PROTOTYPE - says:




y nid 2 learn dat lol





Joshua/ Wai Kit says:




ROLFLOL





Rita Yuen Kam Xin says:




ok kobe lj, lai





Liang Sheng says:




is jiao jiao la





- PROTOTYPE - says:




lol jiao jiao is not so nice





Rita Yuen Kam Xin says:




he call me cb




haha





Piao Sheng says:




or u can call tat as kuku jiao





- PROTOTYPE - says:




lan jiao full rod




call him lj la lol





Rita Yuen Kam Xin says:




calling la




lolx





Liang Sheng says:




i often call kuku bird





cHiNg says:




hahaha





Liang Sheng says:




shit... speechless now



[Melcolm was invited]



- PROTOTYPE - says:




wei melcom




neh there he is lol





Liang Sheng says:




Another VICTIM ~~~~~~~~~~~~~~~~~~~~~~~~





- PROTOTYPE - says:




lol





Rita Yuen Kam Xin says:




Hi Melcolm





Liang Sheng says:




NEW VICTIM...





cHiNg says:




omg.. so hungry la





- PROTOTYPE - says:




lol whr is melcom




woot





cHiNg says:




hi melcolm





Melcolm says:




lol hi





Rita Yuen Kam Xin says:




eh im hungry too





Melcolm says:




meh si o





- PROTOTYPE - says:




lol melcom here dy lol





Rita Yuen Kam Xin says:




i want a pizza





Liang Sheng says:




another victim here





Melcolm says:




why sudd so happening wan



- PROTOTYPE - says:
hahahaha

[Then i accidentally added Kido, a stranger]



- PROTOTYPE - says:




who is kidzie lol




whos dat





cHiNg says:




yea.. who is kidzie?





- PROTOTYPE - says:




><





kido says:




kidzie is lengzai





Rita Yuen Kam Xin says:




shit i think i invited wrongly





- PROTOTYPE - says:




hmmmm





Melcolm says:




who is kido





- PROTOTYPE - says:




lol





cHiNg says:




who is kido?





kido says:




kido is lengzai





- PROTOTYPE - says:




i





Rita Yuen Kam Xin says:




err...





- PROTOTYPE - says:




swt




wads ur name




who invite him 1 lol





kido says:




rita invite me





cHiNg says:




seriously.. who invited him?




lol who is he?





- PROTOTYPE - says:




lol




who d heck is he




lol!!! wad d lol





Melcolm says:




wad plan u wana tell me





Liang Sheng says:




who is kido???





kido says:




....





Rita Yuen Kam Xin says:




hello Kido





kido says:




stop this question==





- PROTOTYPE - says:




lol





Liang Sheng says:




whos i kido





kido says:




hello rita





Joshua/ Wai Kit says:




back





- PROTOTYPE - says:




i reli dunno le




lol





Liang Sheng says:




whos is kido





Joshua/ Wai Kit says:




wth





- PROTOTYPE - says:




who is kido!!!





Rita Yuen Kam Xin says:




eh he knows me





Joshua/ Wai Kit says:




who is kido





- PROTOTYPE - says:


lol of cuz la
ur name is there lol



cHiNg says:




we have a gathering at midvalley on 11/7.. come at around 11.30am+++





Rita Yuen Kam Xin says:




shit haha, i think i invited him or something





- PROTOTYPE - says:




lol all aso duno lol





kido says:




okok





Joshua/ Wai Kit says:




who is kido?????





- PROTOTYPE - says:




lol





kido says:




mid valley play what





Liang Sheng says:




seriously... who is kido!!!!!!!!!!!!!!??????????





Joshua/ Wai Kit says:




u invited him





- PROTOTYPE - says:




lol duno who is he





kido says:




how contact?





- PROTOTYPE - says:




hahahah





cHiNg says:




nont sure.. pool? bowling





Joshua/ Wai Kit says:




kido who r u?





cHiNg says:




or watch movie lo





- PROTOTYPE - says:




wads ur name le




lol





Melcolm says:




ok





cHiNg says:




yeah.. who r u ?





kido says:




watch movie lo





Joshua/ Wai Kit says:




melcom is here?





- PROTOTYPE - says:




lol melcom ur fren ah hahaha




woot





kido says:




drag me to hell





- PROTOTYPE - says:




who is he !!!!





Joshua/ Wai Kit says:




wtf is kiddo





- PROTOTYPE - says:




zzzzzzzzzzz





kido says:




or dance subaru





- PROTOTYPE - says:




lol





Liang Sheng says:




DRAG ME TO HELL SUCKS





Piao Sheng says:




kido who r u





cHiNg says:




lol...





- PROTOTYPE - says:




lol all aso duno





Rita Yuen Kam Xin says:




haha





kido says:




I AM RITA NET FRIEND!





Rita Yuen Kam Xin says:




sorry but i dunno too





kido says:




STOP ASKING!!





- PROTOTYPE - says:




lol





Rita Yuen Kam Xin says:




oh shit





Joshua/ Wai Kit says:




seriously who invited some random dude





- PROTOTYPE - says:




lol rita





Joshua/ Wai Kit says:




lol





cHiNg says:




lol





- PROTOTYPE - says:




y invite some random fren zzz





Liang Sheng says:




ONLI RITa DO TAT...




lol





- PROTOTYPE - says:




lol swt





Joshua/ Wai Kit says:




who we have no idea who is he/her





- PROTOTYPE - says:




lol of cuz la





Rita Yuen Kam Xin says:




haha i dunno how he ends up being in here la





- PROTOTYPE - says:




hahaha





Rita Yuen Kam Xin says:




lolx



Edmund has been added to the conversation.



- PROTOTYPE - says:




woot





Joshua/ Wai Kit says:




lol





- PROTOTYPE - says:




who invite him hahaha





Rita Yuen Kam Xin says:




me lolx





- PROTOTYPE - says:




swt





Rita Yuen Kam Xin says:




just for fun





Joshua/ Wai Kit says:




dun simply invite la





Piao Sheng says:




he idle lar





Melcolm says:




lol dat piece of shit





cHiNg says:




invited who again?





- PROTOTYPE - says:




lol rita love 2 spam





Rita Yuen Kam Xin says:




ok la kick him out la



Edmund says:
wtf?



Rita Yuen Kam Xin says:




eh how to kick ppl out???



Edmund says:
who is it?



- PROTOTYPE - says:




haha no le




he not idle lol




lol edmund




hahaha





Rita Yuen Kam Xin says:




haha i didnt say anything ahh





cHiNg says:




ok.. at least this wan we noe





Rita Yuen Kam Xin says:




lalalala





cHiNg says:




lol





kido says:




why kick me





- PROTOTYPE - says:




lol tis 1 sure noe




lol



Edmund says:
wtf?



kido says:




i want go midvalley leh



Edmund says:
i am that famous



- PROTOTYPE - says:




kick





Joshua/ Wai Kit says:




lol




msn cannot kick la





*** *** *** *** ***
[A while later..]





Liang Sheng says:


ei,.... the whole conversation getting madness liao....
tis is SPADA!!!!!!!!!!!!!!!!!!!!!!!!!!!!!!!!!!!!!!!!!!!!!!!!!!!!!!!!!!!!!!!!!!!!!!!!!!!!!!!!!!!!!!!!!



- PROTOTYPE - says:




wa liao vry confusing





kido says:




11/7 around 11.30




call who





- PROTOTYPE - says:




thx 2 rita





Joshua/ Wai Kit says:




lol now too many ppl jor





kido says:




i know who u all jor




I KNOW WHO YOU GUY NOW





kido says:




malcolm u just now at alldin?





Melcolm says:




yes who are u kido





kido says:




yea i m JK



Edmund says:
who is kido?



Melcolm says:




who is jk





Rita Yuen Kam Xin says:




haha





- PROTOTYPE - says:




who d hell is tis lol!





Liang Sheng says:




jokin?





Rita Yuen Kam Xin says:




jk?



Edmund says:
who jk?



kido says:




that 1 who taught u play drgaonica





- PROTOTYPE - says:




even melcom duno lol



Edmund says:
joking?



Melcolm says:




who is jk o





- PROTOTYPE - says:




woot siapa ni





Liang Sheng says:




joking?





- PROTOTYPE - says:




lol





Joshua/ Wai Kit says:




lol





- PROTOTYPE - says:




jk juz jokking





Rita Yuen Kam Xin says:




haha



Edmund says:
who is jk?



Rita Yuen Kam Xin says:




XD?





Liang Sheng says:




reveal urself man



Edmund says:
who is kido?



Liang Sheng says:




ei, DRAG DARREN HERE plz



Edmund says:
jk?



Melcolm says:




WHO IS JK





kido says:




NIA MA




I JUST TEACH U DRAGONICA HOW VENDER





Melcolm says:




WA




YAO MOU LAN O




SO NGAM GEH





- PROTOTYPE - says:




wa liao!!!





kido says:




NOW U KNOW ME OR NOT





Piao Sheng says:




wao all here



Edmund says:
oi



Melcolm says:




WA



Edmund says:
cibai 



Melcolm says:




SO NGAM GEH




MA HAI



Edmund says:
who is kido?



Melcolm says:




LIDAT ALSO MEET UNTIL U



Edmund says:
JK?



- PROTOTYPE - says:




wa liao almost half of d classs here





kido says:




NOW U KNOW ME OR NOT





- PROTOTYPE - says:




lol





Rita Yuen Kam Xin says:




???





Darren ™ says:




WAIT




WAT HAPPEN





kido says:




NOW U KNOW ME OR NOT



Edmund says:
WHO ARE U JK?



cHiNg says:




wat is this?



Edmund says:
WHO ARE U KIDO?



Joshua/ Wai Kit says:




diu





Darren ™ says:




APA NI





Melcolm says:




WA JK..




LIDAT ALSO MEET UNTIL U AR




MEH HAI O





- PROTOTYPE - says:




lol





Darren ™ says:




JK? who



Edmund says:
WHO?



Melcolm says:




DARREN



Edmund says:
JK?



kido says:




malcom u tell them





Darren ™ says:




??





- PROTOTYPE - says:




lol rita invite 1 u noe





Liang Sheng says:




EVEYONE...here....really make me feel sohai... to chat...LOLOLOL





Rita Yuen Kam Xin says:




lolx





Melcolm says:




LIDAT ALSO MEET UNTIL HIM LOL





Darren ™ says:




HAHAHA




why suddenly u here





- PROTOTYPE - says:




wad d lol




swt





kido says:




I ASK U ALL DOTA WITH ME



Edmund says:
WHO IS THAT?



kido says:




YOU ALL DONT WAN




MAHAI





Melcolm says:




WAAA MEH HAI O





kido says:




NOW U RMB OR NOT




come out meet then u know





Liang Sheng says:




WALAO E.... THE WORDS KEEP POP OUT... KISIAO LA





- PROTOTYPE - says:




lol dota kakis




[then we : Josh, Me, Ching, Sheng, Hua left to another window cuz it's so messy lolx]


Edmund says:
TOMORROW GOT EXAM ALREADY
SEI NGE 
SEI EXAM PHOEBIA



kido says:




how u wan date me go midvalley?




11/7





Melcolm says:




eh darren darren





kido says:




11.30? LOL





Melcolm says:




darren




they say duno wad gathering





Darren ™ says:




??





Melcolm says:




at nxt saturday wo




mid valley wo





Darren ™ says:




huh



Edmund says:
WHAT GATHERING?



Darren ™ says:




wat gathering LOL





Melcolm says:




neh yee ching organize wan





Darren ™ says:




next sat again a



Edmund says:
AIYO SHOULD WE RENT A BUS TO MID VALLEY



Melcolm says:




contact yee ching




LOL SO HAI EDMUND





kido says:




....



Edmund says:
HAHA



[at the same time, we in other convo]





Joshua/ Wai Kit says:




the other convo too messy





- PROTOTYPE - says:




lol





Joshua/ Wai Kit says:




too many ppl




cannot chat





cHiNg says:




lol





- PROTOTYPE - says:




n some random ppl





Rita Yuen Kam Xin says:




haha ya lor so many things





Liang Sheng says:




i really tired ready





cHiNg says:




they all still playing wit kido at the other chatbox.. lol





Rita Yuen Kam Xin says:




keep asking who are u





- PROTOTYPE - says:




who is he





Rita Yuen Kam Xin says:




lolx





Joshua/ Wai Kit says:




he was from ssg




older than us 1 year




last time in 5sc2 de





cHiNg says:




nice to look at the other chatbox la.. they all like so blur asking him who r u ..lol





Rita Yuen Kam Xin says:




but how did i add him leh??? O_O





- PROTOTYPE - says:




lol





Joshua/ Wai Kit says:




lol





Rita Yuen Kam Xin says:




they are wondering about the gathering




hahahahaha





Joshua/ Wai Kit says:




duno them la





- PROTOTYPE - says:




haha ya





Joshua/ Wai Kit says:




now a bit luan





- PROTOTYPE - says:




very luan lol




neh rita keep on invite pppl




even unknown ppl aso hahahaha





Joshua/ Wai Kit says:




yalo rita





- PROTOTYPE - says:




lol




some random ppl lol




who noe melcom




hahhaahah




so fake





Rita Yuen Kam Xin says:




lolx





- PROTOTYPE - says:




lol





Rita Yuen Kam Xin says:




how i know wor





Joshua/ Wai Kit says:




actulaly i knoe him also after he told us his name





cHiNg says:




i think now kido and them become friends adi ..lol





- PROTOTYPE - says:




hahahaha




wa liao rita lol





Joshua/ Wai Kit says:




they knew each other 1





- PROTOTYPE - says:




u add some unknown ppl lol





Joshua/ Wai Kit says:




kiddo is jen kwan




he was from ssg also





- PROTOTYPE - says:




den they actually knew each other





cHiNg says:




lol





Joshua/ Wai Kit says:




i knew him back then in japan cultural exchange programme





Rita Yuen Kam Xin says:




i geng ma





- PROTOTYPE - says:




lol rita u geng





Rita Yuen Kam Xin says:




lolx





- PROTOTYPE - says:




lol





cHiNg says:




hahha..





cHiNg says:




is he somekind of lala ppl? lol




sounds lala to me lol





Joshua/ Wai Kit says:




yea he is





- PROTOTYPE - says:




lol vry lala 2 me




hahaha




c his name sure noe lala chai




lol





Joshua/ Wai Kit says:




now that chat box, become a lala convo adi





cHiNg says:




now they become friends aid





- PROTOTYPE - says:




haha





Rita Yuen Kam Xin says:




haha





cHiNg says:




shud we just leave that chatbox? lol





- PROTOTYPE - says:




tis world is so small lol





Joshua/ Wai Kit says:




yea





- PROTOTYPE - says:




haha nvm





Joshua/ Wai Kit says:




leave tat box la





- PROTOTYPE - says:




tis is d longest lol





Joshua/ Wai Kit says:




yup





cHiNg says:




yeah super long





Joshua/ Wai Kit says:




from 9pm till now ler





cHiNg says:




my shoulder damn tired lol





- PROTOTYPE - says:




haha ya la





Joshua/ Wai Kit says:




more than 4 hours




about 5 hours





cHiNg says:




rita ..




wat time is it now in aus?





- PROTOTYPE - says:




k la




i go sleep




vry tired




ciaoz





cHiNg says:




bb





Joshua/ Wai Kit says:




k la bb




waa they talk non stop



===============================================================

LOL how long have you been reading already???

That's not even half of our conversation last night LOL xD

And yes, they are my friends, they are awesome people!!!! xDDD

Okay I am oso damn tired already, haha so free lah me, upload this onto my blog hahaha...

Bye
xoxo